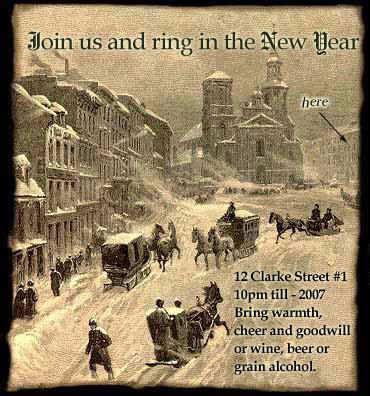 You're all cordially invited to join us at our centrally located (next to the church at the top of church st.) Apartment to ring in the new year, bring drinks, we'll provide the snacks (unless you're a seamonster, then bring snacks too... cause you guys are good cooks.) expect some rug cutting, some under the mistletoe cuddling, and some old grudge shrugging.

Ipod sets by Myself, Ben Hedstrom and Greg Davis, and at some point Todd w/ kick something over. Hopefully not the tree, or my cat. If you plan on stopping by let me know so i can get an idea as to how many of you to expect. Happy Holidays and Cya then!

WHAT: Party!
WHEN: .... December 31st
WHERE: 12 CLARKE STREET APT# 1 (just off pearl, across from Parima.)
WHO: You.
WHY: 'Cause.